Good leadership can boost te reo Māori
New findings from AUT show that a specific style of leadership, known as "servant leadership", can enhance the way employees understand and use te reo Māori.
This week is Te Wiki o Te Reo Māori |Māori Language Week, an annual, nationwide initiative to raise awareness of and engagement with our indigenous language.
Servant leadership represents a style where leaders see their role as facilitating and empowering others – rather than being focused on their own power. Feedback on servant leadership could include, for example, "My manager spends the time to form quality relationships with employees" and "My manager makes the personal development of his/her people a priority."
This leadership style is associated with job outcomes (e.g., job satisfaction, engagement) and wellbeing (e.g., work-life balance) but its influence on the use of language in the workplace has never been tested.
AUT Business School Professor Jarrod Haar (Ngāti Maniapoto, Ngāti Mahuta) surveyed a cohort of 200 Māori employees over three six-week periods. Respondents were predominantly female and married (both 70%); their levels of education varied widely, as did the size of the companies for which they worked. The sector was roughly even between private and public sector (45%).
Professor Haar found that servant leadership has significant direct and indirect effects on the use of te reo Māori in the workplace. Ultimately, employees reported that servant leadership positively shaped their cultural wellbeing (how happy they feel that their Māori culture is supported in the workplace). That sense of cultural wellbeing further shaped their use of te reo Māori at work.
"The link between cultural wellbeing and language revitalisation may seem obvious – but the role of leadership in creating and supporting these in the workplace is an important discovery. We can now see that Māori language revitalisation can be enhanced by managers encouraging and being more supportive of their indigenous employees," says Professor Haar.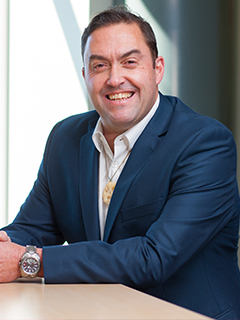 Professor Jarrod Haar
Article date: 17/09/2020 11:00 a.m.
Article author: Jarrod Haar